Side Chair, After John Gaines Iii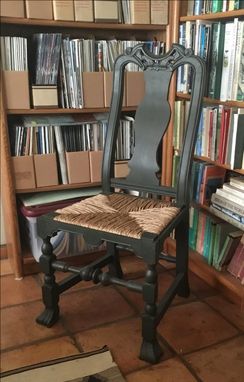 Primary woods: Cherry, Maple, Birch
Secondary material: Rush

Based on: Christies 01/25/2013 Auction (Lot 152 , Sale 2670), Winterthur 58.1513, other 18th century examples

A chair exhibiting the transition between two styles.
The turned front legs, front and rear stretchers and carved Spanish feet are characteristic of William & Mary chairs, while the curved, molded rear legs and center splat are characteristic of the newer Queen Anne style.
Many chairs of this general type were made in New England, but Gaines' design is the most distinctive.