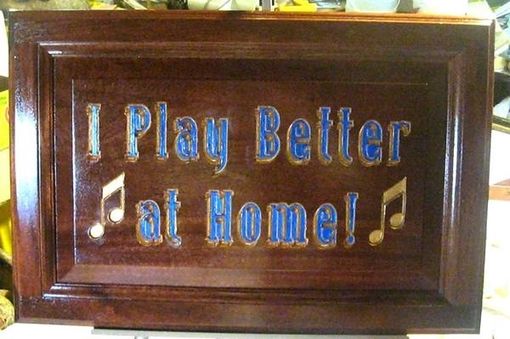 I play the organ and take a weekly group class at a local music store. Each group member plays the song of the week for other members. Most of us exhibit stage-front and tend to make mistakes when we play for the others in the group. Our mantra has always been as the sign indicates, I Play Better at Home! I decided to make a carved sign to hang on the wall at the music store to immortalize our little in-joke.

I used a cabinet door I obtained from the overstock of a local cabinet maker that was prefinished. I used a CNC router to carve the lettering in a shadowed font and used blue and gold acrylics when I handpainted the letters. I also added the stylized music notes and painted them gold.

This a "freebie" for all the students taking music lessons and hangs in a prominent place.
Made in Cross Junction, VA
All of our products are handmade
by expert makers.