" Silence Is Golden" The American Sign Language Alphabet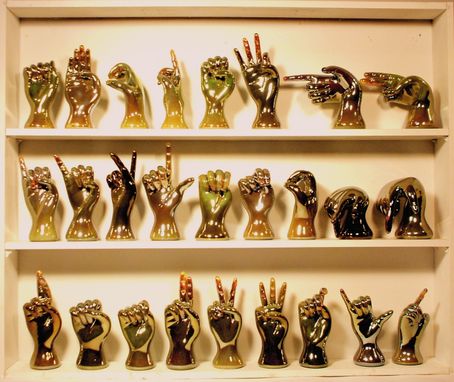 This is the third version of The American Sign Language Alphabet that I have made to date.

Designed for a public art space, this is both an educational and artistic installation that was ideal for hospital waiting rooms, schools, libraries, or other public venue.

Each letter of the aplhabet is painstakingly sculpted from molten glass using only hand tools and specialized skill,
no molds or pre-fab forms were used in making the hands.

They have a coating of iridescent gold glass on the outside surface giving it a rich, reflective color and shiny appearance.
Each hand is between 4" and 7 1/2" tall, about 3" wide at the base, and engraved on the bottom- "ETS 2010" and the letter of the alphabet it relates to.

The basic shelf system is included in the final price, but you may wish to create a site specific shelf or display system that is more compatible with your decor.
Dimensions: 36" x 27" x 4".