Silk Ribbon Bracelet With Hamsa, Peace Sign, And Turquoise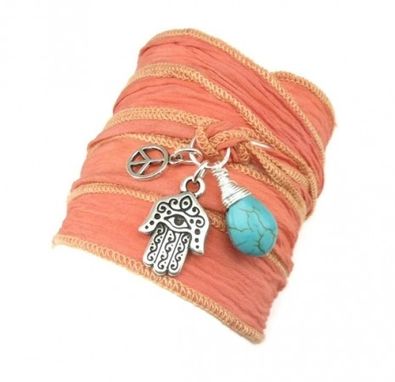 This silk wrap bracelet features a silver plated hamsa, a peace sign, and a turquoise teardrop bead.

The hamsa was originally designed to give protection from the evil eye. It is also believed to possess magical powers of protection, happiness and prosperity. The peace sign is, of course, a symbol of peace but also represents hope for the future. Turquoise is a symbol of friendship. It also brings peace to the home and was known as a symbol of wealth in many ancient cultures.

All of the silk ribbons I use are hand painted and simply stunning. The photos do not do them justice. Both the color and the texture are amazing. This one is a mix of mango and tangerine oranges.

It is 35 inches long - Just wrap around your wrist, tie, tuck in the ends, and you are ready to go! This wrap also makes a great anklet or necklace, so you are really getting three pieces of jewelry in one.

Charms and ribbon color are customizable.
All of our products are handmade
by expert makers.