Silver Brass Three Disk Custom Pendant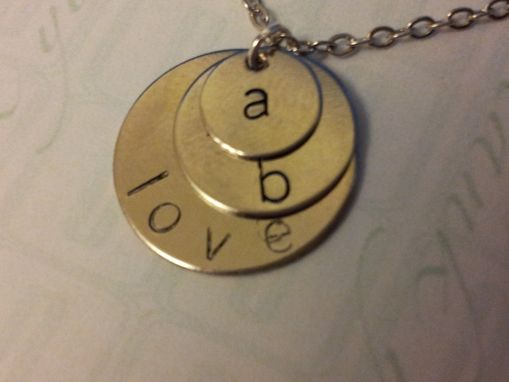 Three silver brass circle disks on a delicate silver brass chain.

The process of making silver brass involves nickel. So if you have a nickel allergy, this is not the product for you. Try the raw brass version instead.

Chain is 18 inches unless you need another size. I can go up to 22 inches at the same price, after that it will be another $1.00 (I'll make a special listing for you, just let me know).

I can do one initial on each disk like shown, or one on the smallest, three on the middle size, and up to four on the largest disk.

Please let me know the order you want the initials in. I also have the '&' sign or a heart symbol, which is cute to feature your and your beloved's initial. Engagement gift anyone? :)

Keep in mind, I stamp these by hand, letters will not always be 100%straight all the time, but I will try. This is what we love about handmade items though, right? :)
The letters are antiqued after stamping to make them stand out against the brass.

Font is lowercase arial.
Largest disk is 16mm (slightly smaller than a dime - which sounds small, but it is a very nice size for a pendant.)

Free shipping within US.

____________________________________________________
**What some of my customers have said:

*Ingrid designed a special charm for me at my request, and it is exactly as the picture she sent to me to review. Paid 09-24, received 10-01, packed fine & exactly as described. Both brass charms that I bought are exactly what I wanted for my charm bracelet: beautiful, and good quality.

*Adorable :)) Fast shipping, courteous customer service!

*Lovely piece! It will complete my key necklace! Thank you!

*Darling Charm!

*LOVED the necklaces and Ingrid was very accommodating to what I was looking for. Great price, great customer service and a great product!

*Such a lovely small business to buy from! So sweet and caring about their customers!