Simplicity Sewing Pattern 9474 Junior Size 11/12-15/16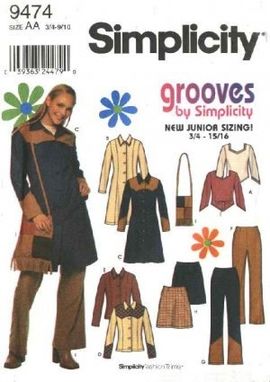 BRAND: Simplicity
DATE: 1999
SIZE: 11/12-15/16 Junior

Pullover Knit Top A with pointed hem and three-quarter length bell sleeves has sweetheart neckline and optional trimming and purchased cord tie ends.

Coat B,C or Jacket D,E as princess seams, front buttons, pointed collar and long sleeves.

C and D have contrast yoke and sleeve overlays. Boot-leg pants

F,G worn 1 ½" below waistline has back zipper and optional back patch pockets. G has contrast leg overlays.

Skirt H worn 1" below waistline has side zipper and front or back patch pockets.

Lined bag I with self or purchased cord shoulder strap has self fringe, Velcro(t) closure and contrast fabric overlays.

The top flap on the pattern has been torn off, but the rest of the package is in excellent condition.