Skeleton Key Boro Glass Beaded Keychain Handstamped Tag, Drilled Sea Stone, Red, Hunger Games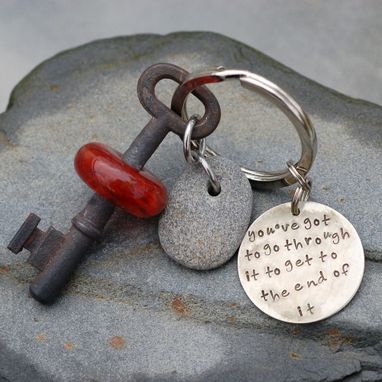 This lampwork glass beaded skeleton key will make a great gift for the Hunger Games Fan. The brass tag is handstamped YOU'VE GOT TO GO THROUGH IT TO GET TO THE END OF IT The bead is red. It measures 3/4 inch in diameter and 8 mm in width. It was handmade in the flame of my torch from borosilicate or boro glass directly on the shaft of a vintage steel skeleton key that measures 2 1/4 inches in length. There is also a beach stone found on the shores of RI and drilled by me under the close supervision of my friend Tracy

he key comes on a nickel keyring. It can be used as a keychain or taken off the split ring and worn as a pendant.