Sky Venus In Flight Original Bronze Sculpture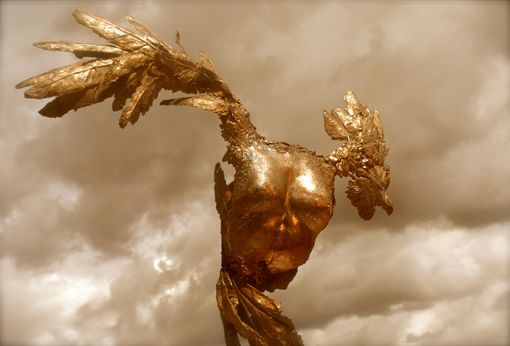 .Ths bust of Venus, cast in bronze is magnificent. She stands atop a bronze drapery poised as if an angel in flight, and has a 5 foot wing span. No other exists like it.She is very beautiful , gleaming with a golden bronze finish, satin, textured with turquoise patina in the details of the bust and wings .The wings show wonderful feather detail. This can be made in various materials which will determine the price. winter-stone is an option as is cast marble.

The original is made in wax, cast in pieces then welded and stands atop a natural white Carrara marble assymetrical base. Suitable for a stunning indoor or outdoor setting, she stands 5 ft tall with her marble base. Weight is about 80 lbs. without the base. Bases are separate and made to suit the casting material and setting. Like the sculpture, the base price varies depending on size and materials used.plus, depends on materials used - Casting options are winter stone, resins and of course, the ultimate bronze.
The price indicated below is the starting price for a similar commissioned piece, not the sculpture itself,, which is available for .in bronze only...Another may be commissioned to your specifications in other materials. Price indicated is for winter stone and does not include base, shipping or moulds if a replica is to be made..