Sleigh Bed With Low Footboard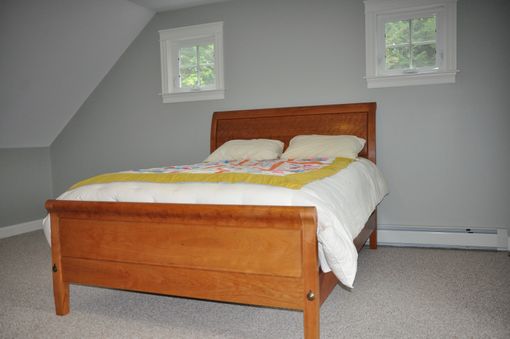 Queen sized Sleigh Bed with Low Footboard has a curved, raised panel headboard and a flat raised panel footboard. The top rails for the head and footboards starts off as a massive 4" X 3" billet of cherry, and are then milled with custom cutters to reveal the pleasing teardrop shape that feels so good under your hand. The headboard panel is glued into a faceted curve on a special jig, then hand planed with a series of custom boatbuilding planes, both in front and back, to make the curved panel. It is then hand raised and set into the headboard posts and rails at a slight angle (much like a chair back) for those who like to sit up and read in bed.
Pinned mortise and tenon joints in the head and footboard, combined with bolted mortise and tenon joints for the bed rails make these elegant beds rock solid.
Dimensions: king size 78" X 82" X 52"H
queen (shown) 62" X 82" X 52"H