Small Soy Candles, 4 Ounce, Honeysuckle, Wildflowers, Lilac, Hours Of Beautiful Burn Time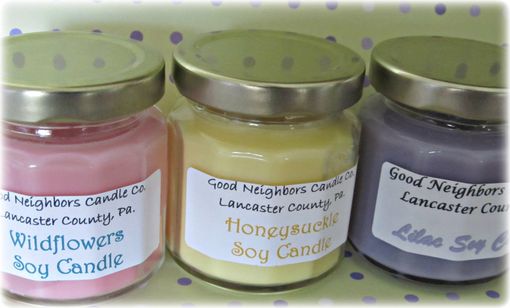 Each 12 sided jar holds four ounces of freshly hand poured soy wax. These are all floral fragrances... perfect for Spring and Summer. These are wonderful for the kitchen or as hostess gifts. Each jar is topped off with a sweet gold twist lid.

I use hemp wicks so you will not be burning metal of any kind.

The benefits of soy wax are numerous:
1. It burns longer than traditional paraffin wax.
2. When trimmed properly and kept out of a draft there is virtually no soot thrown.
3. Burning soy candles helps American Farmers.
4. Soy throws fragrance differently than paraffin. It is gentle but thorough. You definitely know that you have a candle burning but it will not overwhelm you.