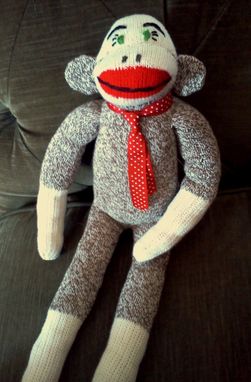 A Sock Monkey is a wonderful, old-timey toy. I have made them for years--every time one of my friends has a baby--because every kid should have at least one hand-made toy. I've made so many of them, I've gotten pretty good at it. I'd love to make one for you! I use the classic "red heel" socks, so they have the signature red butt.

For babies, I embroider the eyes, but for older kids--who don't have to worry about choking-- I can use button eyes...

As with all handmade items, no two are exactly alike. They don't look like they came from a factory--but, of course, that's why kids love them so much!