Solid Cherry Corner Cabinet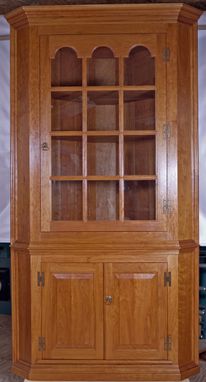 The design is based on corner cupboards pictured in the book Eastern Shore, Virginia Raised Panel Furniture 1730-1830. The moldings are unique, all run in my shop. I built a similar corner cabinet for a client out of walnut, with completely different moldings.
The cherry was cut locally in the Shenandoah Valley, and was air dried. I got the wood rough-cut,and surfaced it in my shop. The color of the wood comes from natural aging, the finish is Bartley Gel Varnish, no stain.
The back of the cabinet is made of individual cherry boards, ship-lapped and beaded. The cabinet is built in two separate sections to facilitate moving.

Dimensions: Width: 48" height: 86" depth: 27