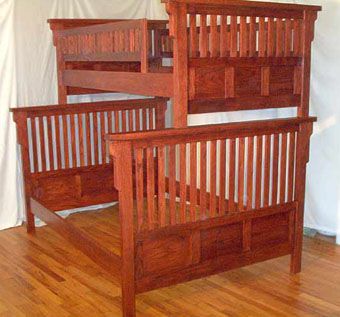 These stunning solid oak bunk beds will be a dramatic addition to your child's bedroom. One aspect of our design which you will love is that your children will not outgrow these bunk beds! Specifically designed to be functional for years to come, this piece is eye-catching - whether you use it as a bunk bed or as two separate beds. It is truly an heirloom quality piece. Note the width of the spindles and the unique detail of the panels. Another outstanding feature of this style is its distinctive finish - we used dye rather than stain which brings out the natural beauty of the grain. Blue Bench Woodworking specializes in designing beautiful custom furniture to suit your home and lifestyle. Why do we especially enjoy building bunk beds for our customers? Because our five children sleep on bunk beds just like these and we know that our furniture must be built solidly to stand the test of time (and the test of busy children!).

Price: $3200

Options: twin/twin; end or side ladder"
Dimensions: 76" x 63" x 80"