Soy Candle, 4 Ounce Peppermint Mocha, Sample, Small Gift, Party Favor, Shower Favor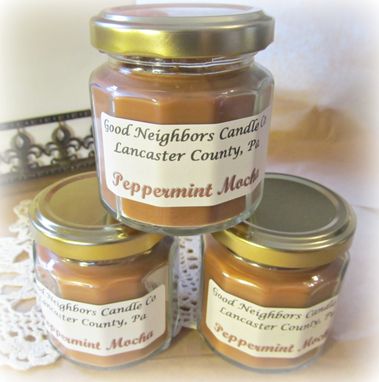 Adorable and inexpensive little candles that delivers hours and hours of enjoyment. Soy wax burns 3 - 4 times longer than paraffin wax. It also burns much cleaner. Clean up is as simple as hot soapy water if you'd like to reuse your container.

Now, what you really care about. How does it smell? Amazing! My son says just like Peppermint Patties while my daughter is convinced that it is a dead wringer for one of her favorite drinks at her favorite coffee shops. You'll just have to be the judge of who is right..

This candle contains a hemp wick. No metal to burn and breathe.