Soy Candle, Baby Powder, Blue, Pink, Yellow, Purple, White, 4 Ounce, 12 Sided Jar, Gold Lid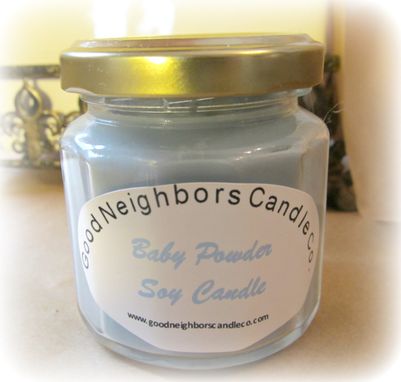 I love this little candle. Baby Powder soft. The fragrance is very true. The little jar with the gold lid is simply adorable and is popular as a sample or as a hostess gift.

This is the same fragrance used in the tea light baby shower favors. If you'd like the jar customized for a shower favor just let me know. I need to know how many you are interested in, color(s), and where you are located so that I can pull together a quote including shipping for you.

Candle is made from soy wax, hemp wick, fragrance oil and coloring.

Candle maintenance is as easy as trimming the wick before you light it....each time.

Other sizes available in this fragrance are: 8 ounce jelly jar, 9 ounce hexagon jar, 12 ounce Jelly Jar, 6 ounce tin, 16 ounce tin and tea lights.