Soy Candle, Blueberry Muffin, 12 Ounce, Blue, Jar Candle, Hemp Or Cotton Wick, Silver Lid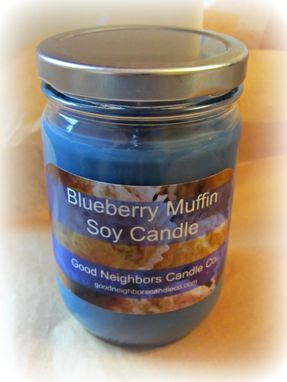 I happen to love blue candles. This one just needed to be made in a blue option. You can also order it in tan, or even white, if you like. While cool the buttery scent comes through stronger...while burning it is just as if you were baking blueberry muffins. This one has many fans.
I use natural wicks in all of my jar candles. Keeping it natural and metal free. Hemp wicks do have a need to be trimmed before lighting each time for optimum performance. It is worth it for the bright happy flame and clean burn. If you find that too troublesome I also offer cotton wicks which tend to turn under as they burn thus requiring less trimming.