Soy Candle, Eucalyptus, Green, 4 Ounce, 12 Sided Jar, Gold Lid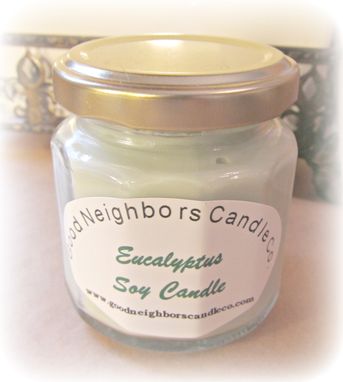 I love this little candle. Some people like eucalyptus fragrance for sinus relief while others just enjoy the fresh scent. I'm not making any medical claims. Just telling you why some people like to use eucalyptus candles. The little jar with the gold lid is simply adorable and is popular as a sample or as a hostess gift.

Candle is made from soy wax, hemp wick, fragrance oil and coloring.

Candle maintenance is as easy as trimming the wick before you light it....each time.

Other sizes available in this fragrance are: 8 ounce jelly jar, 9 ounce hexagon jar, 12 ounce Jelly Jar, 6 ounce tin, 16 ounce tin and tea lights.