Soy Candle, Fresh Linen, 8 Ounce, Daisy Cut Bronze Lid, Tan, Wood, Cotton Or Hemp Wick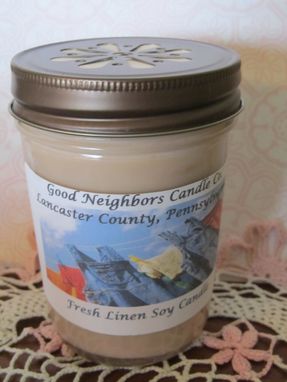 The fresh linen fragrance is one that grabs attention at every craft show I've ever taken it to.

Funny thing is, it had to grow on me. My former business partner, Beverly, just loved it and would sniff and sigh with happiness while I looked on. Then I saw the customer response to it and after making these candles for every show, because I'm no fool, if they like them....you know I'll sell them....I began to like the fragrance. Now, I enjoy it too.

Natural soy wax has been poured into an 8 ounce jelly jar and topped with the fun daisy cut bronze lid. This lid allows you to burn the candle with a lid on, if you so desire. The cuttings provide the venting and oxygen input that the candle requires to burn. Use caution as the lid will become very hot.