Soy Candle, In The Pinewood, 12 Ounce Jelly Jar, Daisy Cut Lid, Red, Cotton Or Hemp Wick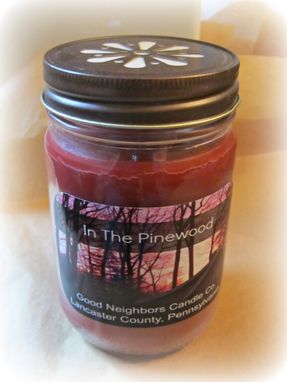 One of our very favorite vacation spots is in the mountains of Northern Pennsylvania. One of the sure ways we know we are approaching our cabin is to roll down the windows and let the aromas of the forest in. The blend of evergreens, babbling brooks and sunshine are all contained in this candle of soy wax.

If you happen to have loved Christmas Cabin.....you'll love this one too. They are twins.

Which wick is for you?
Here is some information to help you decide:

Hemp Wick: Has a strong tendency to mushroom but burns enthusiastically and cleanly every time. This is my original go to wick. This has been a favorite for many years.

Cotton Wick: Less need for trimming as this wick curls down as it burns rather than mushrooming. However, the flame may not always be as high and enthusiastic as you'll see with the hemp wick. Burns extremely clean and completely.

When your candle has burned down and just about a quarter of an inch remains it is time to play it safe and extinguish it.
Clean out your candle jar with hot soapy water and reuse it however you like.