Soy Candle, Mulberry Spice, 12 Ounce Jelly Jar, Daisy Cut Lid, Mauve, Hemp, Wood Or Cotton Wick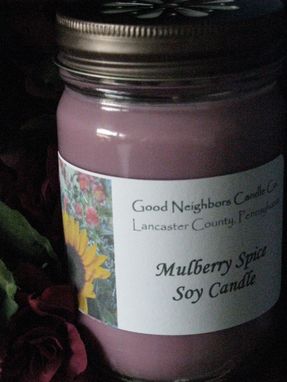 This is one of my favorite fragrances. It is medium to strong in intensity. Because I enjoy the fragrance when it is not burning even better than while it burns this is a great candle to remove the liner of the daisy cut lid and let it softly impact the few feet around it. After a few weeks of enjoying it this way I then light it and enjoy the stronger impact of the scent throw.

Which wick is for you?
Here is some information to help you decide:

Wood Wick: Burns with a crackle and pop. Not quite as cleanly as the hemp or cotton wicks but a complete burn and it is a lot of fun.

Hemp Wick: Has a strong tendency to mushroom but burns enthusiastically and cleanly every time. This is my original go to wick. This has been a favorite for many years.

Cotton Wick: Less need for trimming as this wick curls down as it burns rather than mushrooming. However, the flame may not always be as high and enthusiastic as you'll see with the hemp wick. Burns extremely clean and completely.