Soy Candle, Mulberry Spice, 9 Ounce Hexagon Jar, Daisy Cut Lid, Mauve, Spicy Candle, Fruity Candle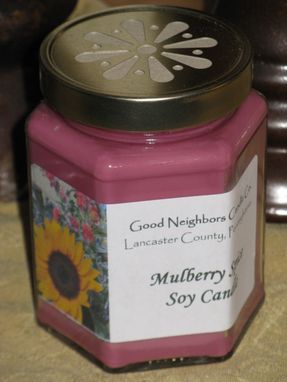 This is one of my favorite fragrances. It is medium to strong in intensity. Because I enjoy the fragrance when it is not burning even better than while it burns this is a great candle to remove the liner of the daisy cut lid and let it softly impact the few feet around it. After a few weeks of enjoying it this way I then light it and enjoy the stronger impact of the scent throw.

This 9 ounce candle has a hemp wick, which when kept trimmed, provides a very, very clean and consistent burn. You also have the option of choosing a cotton wick. While you'll want to trim both wicks, the cotton wick tends to curl under needing less trimming. The hemp wick has a brighter and more enthusiastic flame.

Trimming your wick before each lighting will give you very dependable results.

When your candle has burned down and just about a quarter of an inch remains it is time to play it safe and extinguish it.
Clean out your candle jar with hot soapy water and reuse it however you like.