Soy Candle Tin, Cappuccino Candle, Brown, Three Wicks, 16 Ounce Tin With Lid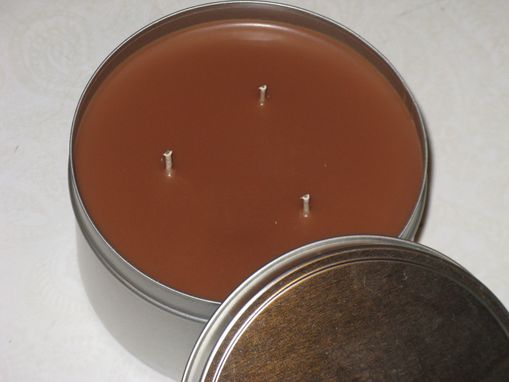 Beware, this fragrance is as addictive as the real thing. I chuckle with joy when customers can't put it down and then tell me that visitors to their home continue to sniff their cappuccino candles. Better yet, additional orders result from these experiences. A delightfully sweet scent that has a great throw without being strong. Hard to describe. You'll just have to check it out for yourself.

Soy wax burns cleaner and with my hemp wicks there is no metal to burn. You'll be amazed at the length of time you get out of this candle. That is because soy wax burns at least twice as long as paraffin. This tin has itty bitty feet that keep the tin from sitting directly on the surface.