Soy Candles Peach Smoothie Fresh Baked Apple Pie Four Ounce Samplers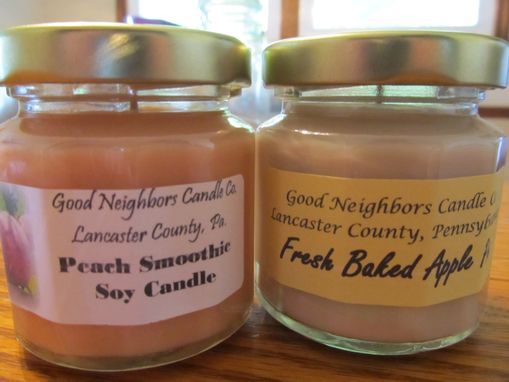 Even in these small four ounce candles you'll get hours and hours of burn time. A great way to try new fragrances. Just last evening I took the peach candle to its first public show. It was a hit! You have to enjoy the smell of a ripe peach to enjoy it....because that was what everyone thought it smelled like. Just like a ripe peach.

The Fresh Baked Apple Pie fragrance is soft. It is one that, while subtle, is pleasant with its cinnamon and apple fragrance. Note that if you like a STRONG Apple Cinnamon candle this one is not for you. Convo me to exchange this one for the stronger Apple Cinnamon, if you like.

Keeping those wicks trimmed will optimize your candle experience. I use only natural hemp wicks in all of the jar candles.

Soy wax burns longer and cleaner than traditional paraffin wax.