Soy Candles, Two Fresh Baked Apple Pie Candles, Tan, Hemp Wick, Four Ounce, Sampler Size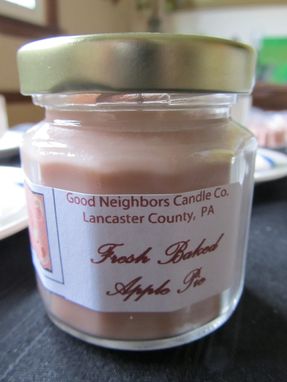 Don't have time to bake? Just light this one up. Save the calories and enjoy the fragrance of apple pie.

The 12 sided jar is a customer favorite and is wonderful for use on a kitchen windowsill or as a gift for a hostess, Mother or friend.

This jar and fragrance also makes bridal shower favors. Inspire the Bride to the fun of baking in her new home and family. The label can be customized with your message. Quantity discounts available.

This is a fun way to try new fragrances when you add it to another order...shipping is just $1 more. Because it is soy wax you will be amazed at how long this little candle burns.

As always, this four ounce candle has a hemp wick.

You can ensure a superb, clean burn by trimming the wick before each lighting.