Special Edition Baseball Bed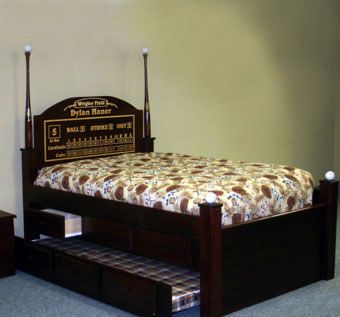 This is a version of our popular Baseball bed. It comes from our Special Edition line and I customized it a little more then normal. On this bed, like our other baseball beds, the child get to help us customize the headboard. They fill out a form with the team names, the score, the stadium name, and their name. Usually I use authentic Louisville Slugger Signature bats, but this time the customer chose one of Louisville's Pro Stock series called Hornsby. This is the same grade bat that the professionals use. I then matched the wood type, which is Ash, and the color. All the information that the customer sent to us I had routed into the wood, but only after the finish was applied. This exposed the natural wood and made the cut sections lighter. The original plan was to paint the letters and numbers gold to match the bats, but after it was cut and loved the result of the natural ash, we decided that the gold would just cheapen the look of the bed. This bed has a trundle and drawers under the bed and a matching nightstand.
Made in North Little Rock, AR
All of our products are handmade
by expert makers.