Special Operations Group Retirement Plaque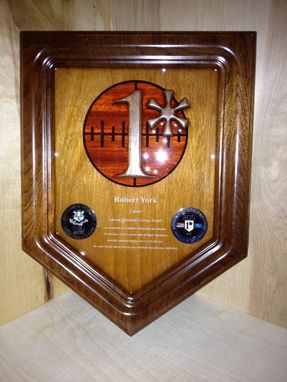 This plaque is created as a retirement offering for members of the CT. Dept. of Correction's Special Operations Group. The design interpretation is that of a shield with a number 1 and an asterisk. This is a common symbol found in the tactical operations community intended as a modern translation that a warriors only regret is that he has but one life to give. The modern day version is the 1*, translated into "one a$$ to risk". This particular plaque was created for one of the Unit's precision marksmen and therefore places the 1* over an image reminiscent of a scope reticle (Cross hair). The coins display each side of the unit's official challenge coin an in between them is the member's name and inscription. this is set in a bed of clear epoxy and the inscription is laser engraved. The frame and the 1* are made from walnut, the center is made from cherry, and the reticle is made from paduk.
All of our products are handmade
by expert makers.