Spiral, Unique Pod Earrings In Copper- With Extra Long Ear-Wires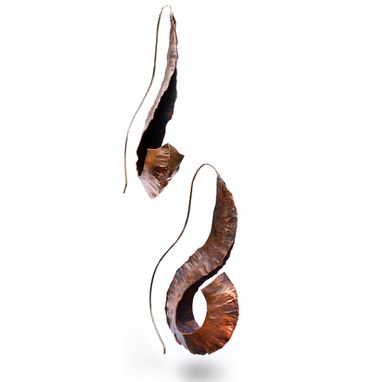 These hand forged copper earrings feature extra long sterling silver ear wires and were made with the intention of the ear wire being put in from back-to-front- but they are wearable in either direction.

This is using a process called fold forming- which allows for sculptural shapes to emerge from metal that is folded, forged and unfolded.

When I make this wearable art jewelry for a client- I consider it a collaboration and work to really get what people are drawn to and interested in. I end up feeling like a channel- and it seems that what ends up getting created comes through me and is able to reach the visions and desires of my client, both physically and spiritually. It is my deep pleasure to work in these kinds of relationships.
All of our products are handmade
by expert makers.