Square Peacock Art Mirror With Copper And Gold Background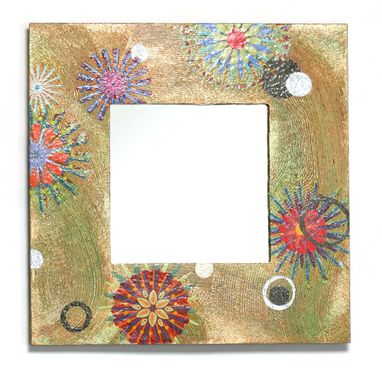 This is a square mirror frame with mirror insert. The frame is textured and painted with metallic and irridescent paints then finished with applied papers of various transparencies.

The size shown is about 18 inches by 18 inches. The size could range from 15 inches by 15 inches to 24 inches by 24 inches. Depth is 1 inch. Mirror is tacked in and can be replaced if needed.

I begin with the cut out shape and comb the acrylic texture material making interesting swirls. After the texture dries, it is painted with metallic and interference paints. The final artistic step is applying the medallion cut papers in various transparencies and textures.

This piece is intended to hang on a wall. I love having one by my front door to check my hair and makeup as I leave for the day.