St. Bette, Mixed Media Decorative Icon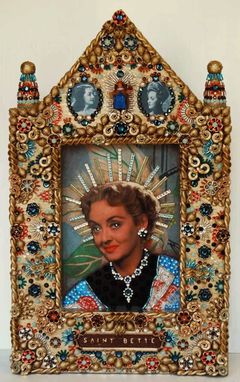 2007
Mixed Media
14" x 6" x 2.25"

A smaller icon, but still a treat for the eyes. How awesome is Bette Davis? Totally awesome. This icon includes a tiny St. Nino, who was actually vended from a gumball machine. He sits between "All About Eve" Bette and "Little Foxes" Bette.

This icon is made from wood, found objects, paper, candy wrappers, rhinestones, glass beads & pasta.