St. Johnny, Mixed Media Decorative Icon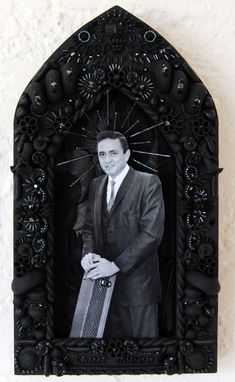 2009
Mixed Media
12" x 6.75" x 2.5"

St. Johnny Cash. For this icon I wanted to create the feel of an old grave marker, in a forgotten, rural cemetery. Of course, I used all black and the background behind Johnny is layered crow feathers. An example which shows...not all icons need to be gilded!

Material include wood, glass beads, pasta, rhinestones, feathers and paper.