St. Mick, Mixed Media Decorative Icon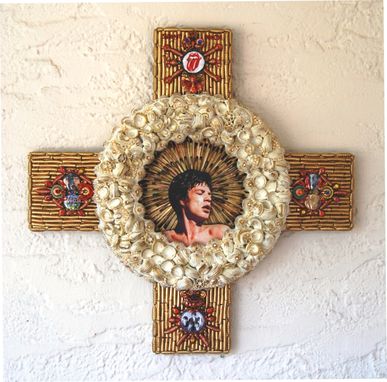 St. Mick
2010
Mixed Media
18" x 18" x 4"


Here's a larger icon--an example of an unusual shape. I have all my wood cut on a special electronic router, using a computer file--so just about any shape is possible.

I made this piece for a huge Mick Jagger fan. I Imagined her swooning over Mick as a teenage girl...in her teenage girl bedroom. I tried to replicate the look of that familiar girlhood bedroom furniture--the canopy bed, everything painted white with those antique gold accents--supposed to look French (?)--probably bought at Sears. That's where teenage swooning starts!

Later, my client came face-to-face with Mick, in Barbados. As a nod to that, I gave the cross the look of something a little tropical, like it's woven from grass or rattan.

Mick has a burnt matchstick halo. This refers to his profligate, party boy reputation.