St. Salvatore, Mixed Media Decorative Icon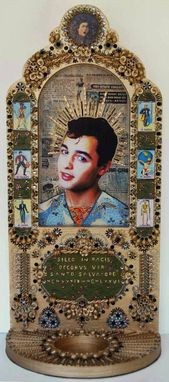 St. Salvatore
2007
Mixed Media
25" x 10" x 6"

This is an example of free-standing icon which is made to hold a candle--to function as an actual shrine.

This is Sal Mineo--super handsome actor and pal of James Dean, who was, sadly, murdered. I made this icon for a friend of mine, so I incorporated some ideas that would be recognizable to him, particularly. For example, the Caravaggio Medusa at the top commemorates my friend's pet snake, who had recently died when I made the icon. Also, I dressed Sal in Japanese garb as a nod to my friend's love of Ken-do the Japanese sword-fighting discipline. The Lotteria cards are used like a Book of Hours, to tell the story of Sal Mineo's life.