St. Sebastian, Mixed Media Decorative Icon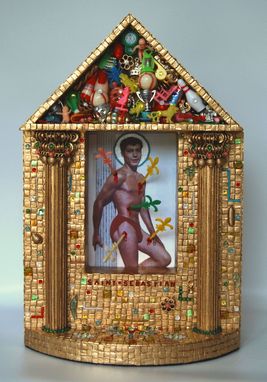 2009
Mixed Media
13" x 8.5" x 4.5

Here's an example of a tabletop icon. This is Saint Sebastian, a 1st Century Italian Martyr. According to his legend, Sebastian was shot full of arrows, but did not die. Instead of arrows, I used cocktail swords. What kid doesn't save all their parents cocktail paraphernalia?--those swords are the perfect doll-sized weapons! I used the swords as a starting point for the bright, plasticky color palette, which I like a lot. At the top, where one might normally find an orderly architectural pattern or frieze, I substituted a random jumble of gumball machine prizes. That little twist seemed like a good match for the vapid pinup boy I chose for Sebastian. He has an endearing goofiness that is appealing in the same way as tiny prizes!

This Icon is made of various materials and found objects, including wood, paper, glass beads, rhinestones, plastic cocktail swords, gumball machine prizes and gilded pasta.