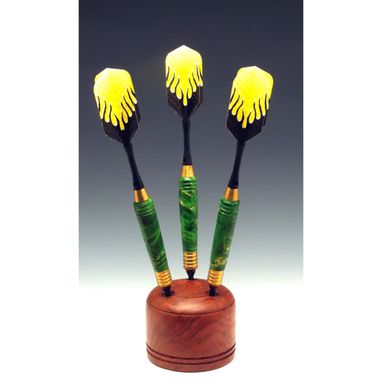 I design my darts and make them as a set one-at-a-time. I use many different materials that I hand turn on a wood lathe. I then pack lead inside the barrel to achieve the desired weight and balance. The darts are made to a weight of 20 grams as I have found this is a good weight for the best flight. They all come with soft tips for the electronic boards and steel tips for cork and bristle boards. A hand-turned stand out of wood is included for display.

The shafts and tips are 2ba and the flights are high quality Mylar. I can customize them to your desired weight in a range of 14 gram to 28 gram for most of the materials I use.
On this set I used Stabilized Wood. The wood is completely infused with acrylic resin and sometimes dyes for color. It holds up very well but not quite as hard as the Horn. It comes in many colors. The wood used may be Burls, Spalted highly figured and exotic. Some are double dyes for a very unusual effect. All are sprayed with multiple coats of lacquer for protection and to bring out the beauty of the wood.


Dimensions: 3 1/2" diameter by 7" High for set