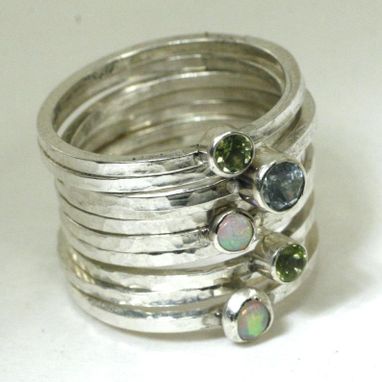 Stacking rings are very popular among ring lovers and those that are perhaps indecisive? Pick and choose your favorite gemstones either faceted or cabochons and have a set of small thin rings made. One gemstone per ring means they fit next to each other quite well, or wear just one or two at a time for matching outfits.

I have a huge collection of stones, pretty much anything you could possibly want, and if I don't have it, I can get it.

Also, mix and match your metals! go either all sterling silver, all gold, or some of each, or even mix metals within the same ring such as using a white bold band with a yellow gold bezel!

Prices depend on the size and type of stone that you choose. Some stones, like sapphires, rubies, emeralds and diamonds are more expensive. Topaz, citrine, amethyst, and garnet are not as expensive. You get the idea. Usually I use 3mm round stones, but I can use any stone size you like.

Please contact me with you stone requests and I'll get back to you with a quote, usually within 12 hours.
All of our products are handmade
by expert makers.
rachel's review

• Dec 18th 2012

Working with Earth Art Gem & Jewelry was the best! It was so easy, comunication was great, everything went perfectly well. I receive the rings today, they were exactly what I wanted and Austin presented them very carefully in beautiful boxes, with protective paper, very professional.
I highly recommend working with Austin, I will certainly continue doing so.
Excellent work!
Thank you.