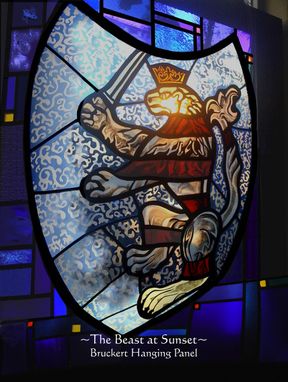 Herve Bruckert owns a winery and was looking for the perfect logo. Apparently he'd been looking a long time for someone to created his dream piece. He gave me a well worn photograph of what her was hoping for.

"The Beast" as we affectionately named him is a replica of a very small portion of a humongous window in a French cathedral that Herve would visit with his grandmother.

This crowned, sword wielding lion is a classic example of medieval heraldry. The panel has fused glass painted details and the background design is a sandblasted organic design. The deep cobalt blue is flashed onto clear glass. The resist was made with two layers of cut contact paper and when blasted with sand etches off the blue layer revealing the white glass.

The panel is framed with a ebony stained wood frame and allows Herve to hang it in front of any window at his winery.