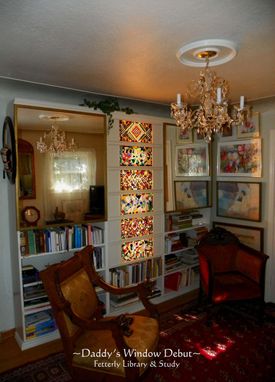 I'm very good at problem solving and this solution is still one of my favorites.

These small panels had been stored under Jann's bed for years. They consist of small glass pieces glued onto plate glass. They were created by her dad and tell the Genesis story. She sought my help in figuring out how to display them.

Her favorite room was her cozy library/study and we discovered the panels would work displayed in her existing book shelves. I built simply trimmed painted wood slip-ins and wired in light fixtures with a cord switch.

Across from her book shelves, Jann likes to sit in her overstuffed easy chair and remember her "daddy".