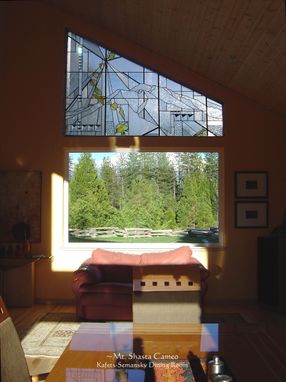 Lael and Michael added on to their A-Frame home. The view of Mt. Shasta from their dining room is glorious. They wanted stained glass but I was so reluctant to loose the view.

So I designed a portrait of the mountain in textured clears - also known as art glass. The different textures are raised surfaces on the glass and each little bump and bit serves as a prism. The window takes on its own glitter.

While standing on their roof to photograph the panorama I was so delighted with the gold aspen leaves fluttering towards the house. There is a ribbon of glass leaves being blown up against the window.