Stained Glass Window Of Blue Heron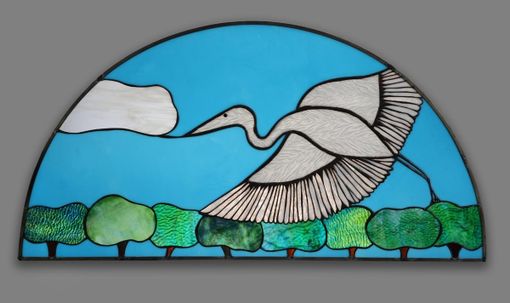 A client with a beach house on the Jersey Shore asked for a stained glass window that would celebrate the blue herons that live in the area. He loves the graceful lines of the bird in flight and wanted the bird to be realistic. For the design, I proposed that the bird occupy the majority of the window in order to highlight the details of the wings. Each individual feather was cut, shaped and fitted together like a puzzle. The degree of detail of the heron gives the piece a dramatic feel.

Since the intent of the stained glass was also to block the morning sunlight that streamed into their bedroom, I used opaque glass that would dampen the light. While it is opaque and effectively blocks the light, the blue background color is still bright and looks like a beautiful day at the beach. The bird was created with a richly textured ripple glass that mimics the feathers of the bird. The bird soars over trees of varying shades of green. While the bird is rendered in a realistic style, the rest of the design is very simple which causes the viewer's focus to come back to the heron.
All of our products are handmade
by expert makers.