Stainless Steel Table Lamp, Half-Cylinder Cast Glass Element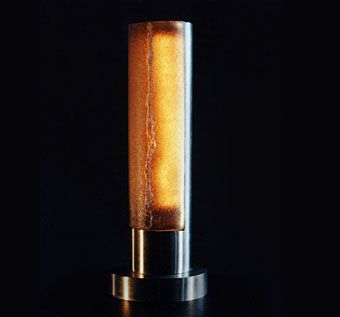 Limited Edition

The body of the lamp is a cylindrical form fabricated of stainless steel, with a solid, cast-glass element. It's wired for standard-base bulbs (120w), with a 3-stage touch dimmer.

The stainless steel base (pictured) has a brushed finish. Other surfaces are available through discussion with the artist.

The half-cylinder cast glass element with a single ridge (pictured) is also available in two other more geometric patterns.

This lamp is designed to supply ambient light. It's contemporary form allows for a wide variety of interior applications.

Please call or email us for pricing.
Dimensions: Height: 14.75" Base diameter: 5.5" Diameter of glass element: 3.5"