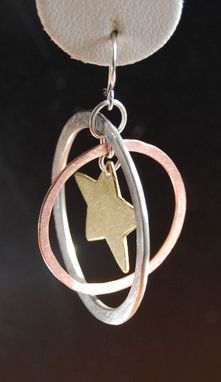 These celestial earrings inspired by the brightest star in earth's night sky, Sirius. Created from sterling silver, brass and copper with sterling ear wire.

Fun facts: "What the naked eye perceives as a single star is actually a binary star system, Sirius appears bright because of both its intrinsic luminosity and its proximity to Earth. At a distance of 2.6 parsecs. Sirius is located in the constellation Canis Major – also known as the Big Dog – and is therefore known as the "dog star". It is over twenty times brighter than our sun and is twice as massive. At night time, Sirius is the brightest star in the sky and its blue-white glare never failed to amaze star gazers since the dawn of time.
Associating Sirius with the divine and even considering it as the home of humanity's "great teachers" is not only embedded in the mythology of a few primitive civilizations: It is a widespread belief that has survived (and even intensified) to this day. "
All of our products are handmade
by expert makers.