Star Wars Episode 3 Anakin Skywalker Wool Robe In 6 Sizes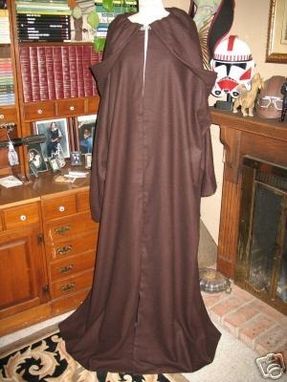 ROBE : The picture shows flannel wool.
Fabric: 100% Wool Flannel for colder weather

Color: Coffee Bean Brown

This robe is also available in wool suiting or wool crepe for warmer climates, the fiber is thinner than wool flannel

Sizes: XS,S,M,L,XL,2X,3X

THIS ROBE IS AS ACCURATE AS POSSIBLE REDUPLICATION TO MY INTERPRETATION. WITH A LOT OF RESEARCH, WE HAVE FINALLY BEEN ABLE TO FIGURE OUT ALL THE SEAMS FOR THOSE OF YOU WHO WISH TO BE EXACT OR AS CLOSE AS POSSIBLE for the memberships to the 501st or Rebel Legion.
THE HOOD IS CUT ON FOLD SO THAT IT WOULD NOT HAVE A CENTER FRONT SEAM which means it is LINED WITH THE SAME FABRIC, the only seam which is there is the neckline seam.THE HOOD GATHERS ALL THE WAY AROUND THE NECKLINE TO THE CENTER FRONT with EVEN DISTRIBUTION OF THE FABRIC SO THAT THE HOOD WOULD NOT PULL BACKWARDS AND FALL OFF OF SHOULDERS. THERE IS AN INCH TUCK AT THE SHOULDER, SAME AS THE TUCK ON THE TUNICS. AFTER PURCHASE, I WILL ADJUST THIS TUCK TO THE LENGTH OF THE SLEEVE.IF I DO NOT HEAR FROM YOU I WILL SKIP THIS STEP AND SEND IT WITHOUT THE TUCK. THIS ROBE IS MADE TO CUSTOM ORDER FOR LENGTH AND SIZE. AFTER PURCHASE, I WILL ASK FOR FEW MEASUREMENTS. IT IS YOUR RESPONSIBILITY TO PROVIDE ACCURATE MEASUREMENTS. EACH ITEM MADE TO YOUR STATS. NOT RESPONSIBLE FOR INACCURATE FIT DUE TO WRONG STATS. AFTER PURCHASE I WILL ASK QUESTIONS ABOUT YOUR OVERALL SHAPE, SIZE, WEIGHT AND HEIGHT.
ANY QUESTIONS, PLEASE ASK.

REPRODUCED BY EVA VANECEK DBA EVA VON CLAUSEWITZ.


COMES IN 7 SIZES
SIZE CHART:

XSMALL: Waistline 28 to 30"
SMALL: 32 to 34"
MEDIUM: 36 to 38"
LARGE: 40 to 42"
XLARGE: 44 to 46"
XXLARGE: 48 to 50"

XXXLARGE 52 TO 54"

Any other size? Please ask.
EACH GARMENT IS MADE TO ORDER according to you height, weight, waistline and sleeve measurement. Please specify your measurements,the sooner I get it the sooner I can get started.
HAPPY COSTUMING.