Star Wars Hoth Rebel Pilot X-Wing Jacket Replica Costume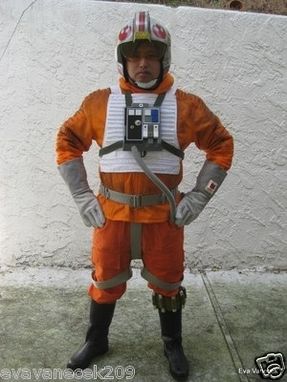 Star Wars Hoth Xwing Rebel Pilot jacket

This jacket comes in 7 different sizes: XS,S,M,L,XL,1X & 2X = need any other size, please ask.

The jacket is produced according to the stats written on the Rebel Legion boards. Some of the seams are top stitched.

The box pleats start 8 inch up from the hem of the sleeve and are incorporated all the way up into the neckline. The pleating is hand done and is the most consuming part of this costume,each side takes up to an hour to pleat by hand.The dimension of the box pleat is 1/2" top and 1/4 " bottom.

The coat is lined and also interfaced with felt throughout the jacket.

The collar is stuffed with stuffing to create the puff, if you wish a flatter collar please let me know. There seem to be 2 different versions of the collar.

There is a 1 inch velcro in center front for closure.
The jacket is lined with cotton medium weight novelty cotton in shades of orange .

The rank badge pocket holds a badge 2 1/4" by 2 3/4", has plastic cover in the window to hold the badge in place.

Provide your accurate measurements ,ask questions before purchase and give instructions before production begins.

Size chart:
Xsmall;
waistline 26 to 28 inches
woman size 2 to 4

Small:
waistline 30 to 32 inches
woman size 6 to 8

Medium:
waistline 32 to 36 inches
woman size 10 to 12

Size Large;
waistline 36 to 40 inches
woman size 14 to16

XLarge:
waistline 40 to 44 inches
woman size: 18 to 20

1X:
waistline: 44 to 48 inches
woman size 22 to 24

2X: 50 - 54 inches

Please provide the accurate measurement of your waistline, sleeve length and coat length, shoulder blade,neckline,wrist, hip measurement etc..........

I will need your waistline measurement,sleeve length and the jacket length.

Provide accurate measurements please..