Star Wars Print Men's Tuxedo Formal Wear Vests In 6 Fabric Patterns In 6 Sizes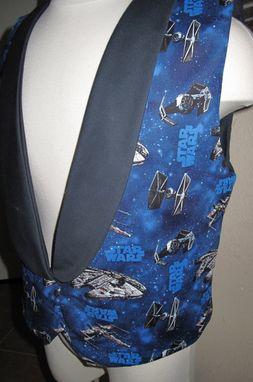 Tuxedo men's vest with a collar and 3 buttons in the center front for closure.

Style: Tuxedo style with a collar
Pattern: Star Wars in 6 fabric patterns
Color: Multi-color
Fabric: 100% cotton and poly lining

Vest waistline measurement:

XS = 40 inches 23.5
S = 42 inches 24.5
M = 44 inches, CF length = 25.5 inches
L = 47 inches 27
XL= 50 inches 28.5
1X = 53 inches 30
2X = 56 inches 31.5

Important fit information: In order for the best fit you must measure around your stomach and not your waistline if the stomach protrudes over the waistline. The stomach measurement must be taken in consideration otherwise the vest will not fit properly. If you have any questions, please ask. I will give you directions.
Materials: cotton and metal strap adjuster with ties in the center back to tighten the waistline if needed

The vest is made from 100% cotton. The lining, collar and backing is made from 100% cotton twill or blend which ever is in stock at the time of production. The vest has a strap in the center back for waistline adjustment. All seams are under stitched for the seams to lay flat. The center back hem is sloped which means it is not a straight line, instead I have prolonged it by several inches and the reason for this is so that the shirt will not come out from under the vest as would happen if the vest did not have this detail. This way the outfit will look great and neat with no jacket on. I have started my business 25 years ago with the vests, selling at the Arts and Craft Festivals around the west coast and have perfected the patterns over the years.


All items are produced by Eva Vanecek with pride in the USA.
If you have any questions or need more size information please ask.