Star Wars Print Men's Vests In 6 Variations In 6 Sizes With Metal Clasps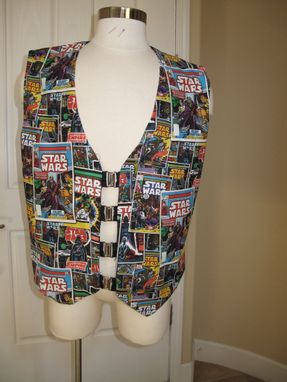 Men's Vests with 4 metal clasp closures
Fabric: cotton and poly lining
Materials: silver metal clasp closures

The vests have the print fabric on the front side and cotton solid color fabric on the center back.The vests are closed with silver metal closures which makes the vest more flexible in the center front unlike with buttons which is more stationary and stiff, does not move with movement like the clasp closures. If you would like this item with buttons instead of the closures , make a request and the price will stay the same.

Important:
Waistline measurement for men: if your tummy bulges over your waistline please take this measurement instead of the waistline for the vest to fit correctly and be able to close.

Sizes chart:

Xsmall:

Waistline: 36 inches
Length: 24 inches

Small:
Waistline: 40 inches
Length: 25 inches

Medium:
Waistline: 44.5 inches
Length: 27 inches

Large:
Waistline: 48.5
Length: 28 inches

Xlarge:
Waistline: 52.5 inches
Length: 29 inches

XXlarge:
Waistline: 56.5 inches
Length: 30 inches

Care instructions: because the item is mostly cotton , cotton shrinks in hot water and dryer. Wash in luke warm water and low heat dry. If you do not know how to iron than I would take the item to the cleaners instead. By dry cleaning the item will last longer and will not discolor.