"Stardust" Style Fused Glass Serving Dishes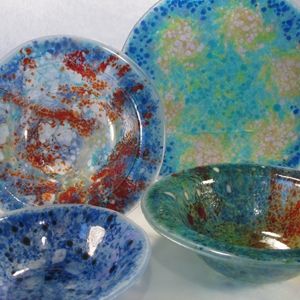 Telescopic photographs of the Milky Way, nebulae, planets, and black holes inspire the impressionistic style we call Stardust. Tell us what colors you like and choose from among various sizes and shapes--cereal and serving bowls, dinner or charger plates and Seder plates, small curved squares and oval dishes, and candle bridges--and we can create a combination of dishware that will make your table unique.

To create each plate or bowl, we assemble various sheet and ground glasses and melt them together in a kiln at controlled temperatures. After the fused glass cools it is returned to the kiln and slumped into a mold. The result is a colorful, serving piece.
Dimensions: 7.5" d to 12" d