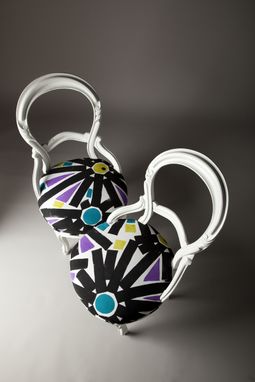 These glamorous Victorian lovelies have been refinished with semi gloss lacquer and rubbed in places to give a distressed look. Hand painted in a eye catching graphic print in black, citron, turquoise and purple. There are 4 available.

The dings and dents of their history have been intentionally left behind. We're not trying to produce new furniture. We're giving new life to old and recycling.

Trimmed with 1/8 double welt .

Fabric is 100% cotton twill, similar in weight and feel of denim.


Dimensions: 36highX20deepX20wide