Steam Punk Theme Faux Mosaic Cake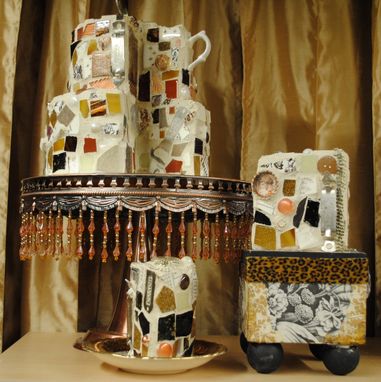 I started with an 8 inch round and a 6 inch round styrofoam cake dummy and applied a variety of eclectic, mostly brown, copper and gold colored items such as a hand-held can opener, bottle openers, a compass, coins, keys, stained glass, marbles, china shards, ceramic tile, buttons, a cup handle and many more found objects. Two slices of the cake were removed and grouted separately. The grout is a very pale brown/taupe. It is a fun, whimsical centerpiece for those who love cake but prefer the steam punk look to a feminine floral that my other faux cakes and cupcakes traditionallly take.

All of our products are handmade
by expert makers.