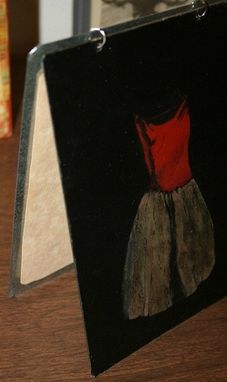 Totally Original, Hand Painted Steel Cards Double As Art!

Two steel sheets, attached up top by metal rings.
A blank page inside is affixed by double sided tape. This allows the receiver to transfer your sentiments (if they choose) while the art is displayed in their home.

STEEL PARTY DRESS
The perfect evening planned... check.
The perfect pre-date ritual... check.
The perfect man........ alright,(sigh) so nobody's perfect.
At least you've found the perfect party dress.
This night is going to be... well, perfect.

Measures: 5" x 7"

*A chain for hanging is available upon request.

**I would be happy to create a custom card for you! Contact me and we'll collaborate to create a very personalized gift.