Sterling Circles, Drilled Holes, And Rhodolite Garnets...Disc Earrings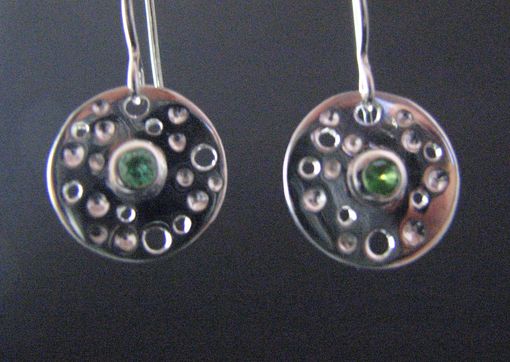 Luna Collection textured & drilled discs, set with lovely rhodolite garnets. With sturdy soldered ear wires, these earrings are the perfect compromise between wire and post construction.
From the Greek word, "Rhodon," meaning rose, the rhodolite garnet is one of my favorite stones because of its vibrant color and exceptional clarity.

These earrings are made of recycled sterling silver and can also be made in 14kt or 18kt gold.

Create your own statement with different colored stones: amethyst, blue topaz, diamond, garnet, hematite, jade, lapis, moonstone, onyx, opal, pearl, peridot, pink topaz, smokey brown quartz, sapphire, etc. Contact me for details and pricing.